Years ago I found myself stressed out about what to get the kids for Christmas. Once I got started, I never knew where to stop. Trying to keep things even amongst the kids, if one ended up with one or two more gifts, that set me in a frenzy trying to find extra things for the others. I also found it super hard to stay on budget (assuming I even made a budget that year – many years, I didn't!). Can you relate?!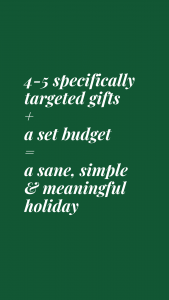 Then, I learned about the 4-gift Christmas… you've probably heard of it. Something they want, something they need, something to wear, something to read. This sounded doable and less than I had been doing in past years. That first year doing the 4-gift Christmas, I couldn't believe how easy it was to get my Christmas shopping done for the kids… and how much easier it was to stay on budget, too, even if I was panicked right up until gift-opening that the kids would be disappointed in receiving so little. To my surprise, they were thrilled and didn't even notice that it was a smaller year than usual. We've done it this way ever since! From the first year, we've added a fifth gift, though, and that's one from Santa.
Our family does things a little differently than the "norm", I think. We open all of our family gifts that are wrapped and under the tree on Christmas Eve. Then, Christmas morning the best gift is sitting, unwrapped, under the tree from Santa. This is how my parents did it for my brother and me growing up and it was a tradition I wanted to keep for my own kids. It leaves Christmas day to be more about the family time than the unwrapping frenzy, and it seems to work well for us. So, on Christmas Eve, our kids open four gifts from mom and dad and then on Christmas morning they have one more special gift to look forward to finding under the tree, when they wake up. I'll share exactly what we got for the kids this year, down below!
I love this 5-gift Christmas because I know when I'm done shopping – no sales can tempt me!! It also focuses me on what exactly do the kids need and what won't end up being trash by New Years. It's seriously such a sanity saver, and I feel that our Christmas has more meaning since making this switch, too. If you're feeling stumped on how to make this work for your family, I thought I'd share what my thoughts were for each of the categories this year, as well as show you exactly what we got!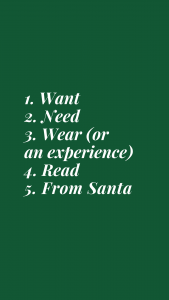 For the "something they want" category, this year, we went for new games we can play as a family for each of the kids. I'm really hoping this goes over well with them, and I think it will, because they've all mentioned wanting more fun things to do as a family. Family time is a great gift!!
"Something they need" is cracking me up this year – we got each of the kids socks. Yes. Socks!! I think giving a necessity like socks is such a great idea for Christmas. Kids love opening presents – it doesn't really matter what's inside. Receiving a simple necessity alongside the fun stuff helps remind the kids that even things like socks really are a gift! I think it helps keep the holiday a humble one.
This year, we mixed up the "something to wear" category and made it either something to wear or an experience gift. I'm so excited about this because that's even one less thing entering our home this Christmas and instead a fun memory waiting to be made for the recipient. None of our three kids needed anything to wear this year, which is such a blessing, right?! It was stressing me out trying to figure out what clothing item to get them when they really are set with what they have – loved the idea of swapping it for an experience instead and I can't wait to see what the kids think when they open those special gifts!!
For "something to read" I like to get the chapter-book-readers a boxed set series. It feels a little more special than just one book and it gives them something to really dig into during the remainder of Winter break. We've had many years, though, where one book was what they received and honestly I think they're happy either way! For non-readers or younger readers, we have typically gotten a storybook collection, where there are multiple stories in one binding. They're so great for bedtime stories and there are tons of awesome options out there nowadays.
The gift from Santa is usually the thing that they've been looking most forward to receiving, or hoping for the most… but that said, I'm not always able to make their wild wishes happen. This year, the kids are receiving things they've asked for but not necessarily exactly what they've been dreaming about. I always worry about that, I think every parent wants to make Christmas as magical as possible, but sometimes Santa knows best.
Next year, we are likely bunking this entire system and opting, instead, for one big experience gift for the whole family, plus the gifts from Santa. I love the idea of the kids each receiving their one special gift and doing something fun as a family with the rest of the Christmas budget. More experiences, fewer things! Do you have any ideas for a fun family experience?! I'd love to hear them!!
Ready to see what we got our three kids for Christmas this year, using the 5-gift Christmas plan? Here it is!!
*The following gift guide includes affiliate links. I receive a small percentage of the sales generated from these links, but you do not pay any extra for shopping using the links below!*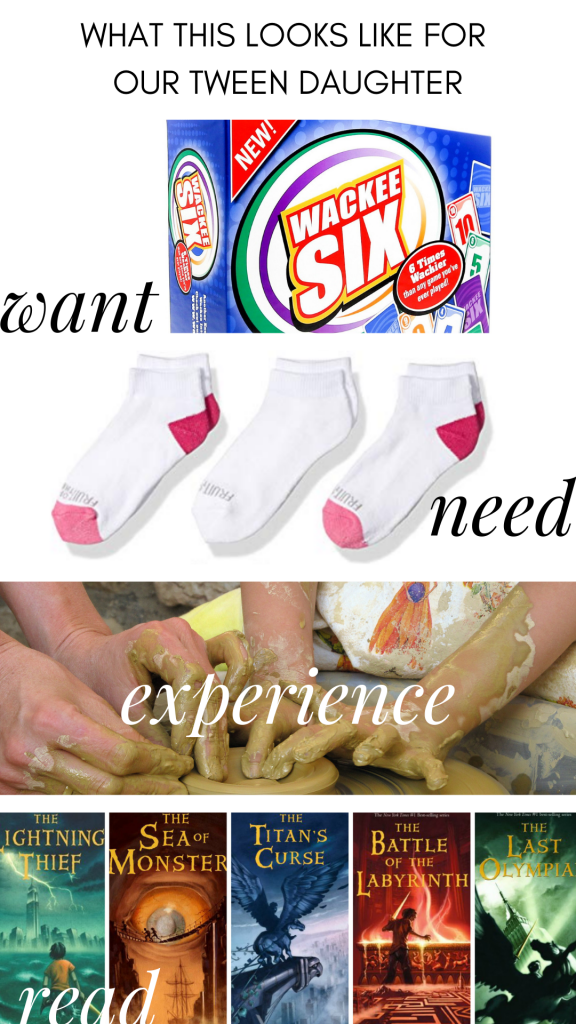 Want: Wackee Six Card Game
Need: Fruit of the Loom socks
Experience: A 2-day pottery class at our local arts center
Read: The Percy Jackson & the Olympians boxed set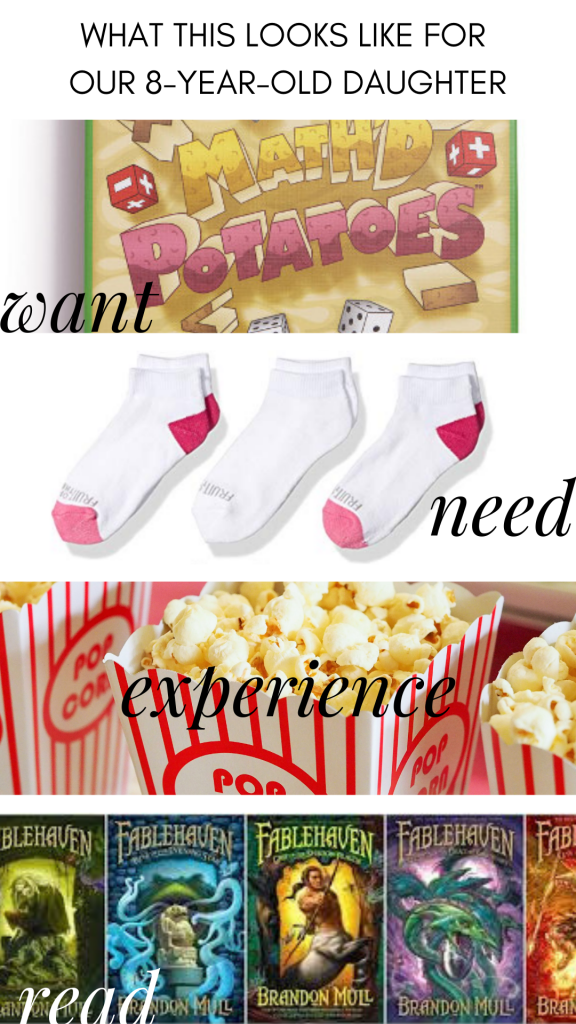 Want: Math'd Potatoes game from Simply Fun
Need: Fruit of the Loom socks
Experience: Dinner & movie date night with a parent
Read: Fablehaven series boxed set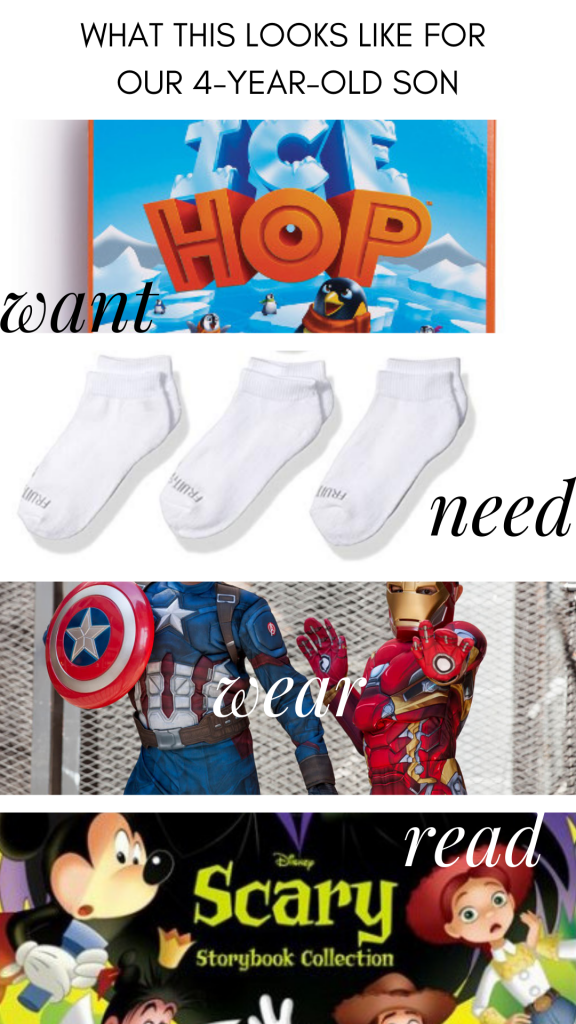 Want: Ice Hop game from Simply Fun
Need: Fruit of the Loom socks
Wear: Marvel Superhero Costumes
(Our little guy loves dressing up but has no cool costumes of his own.
I got these at Walmart the day after Halloween for so cheap – linking to something similar!)
Read: Disney Scary Storybook Collection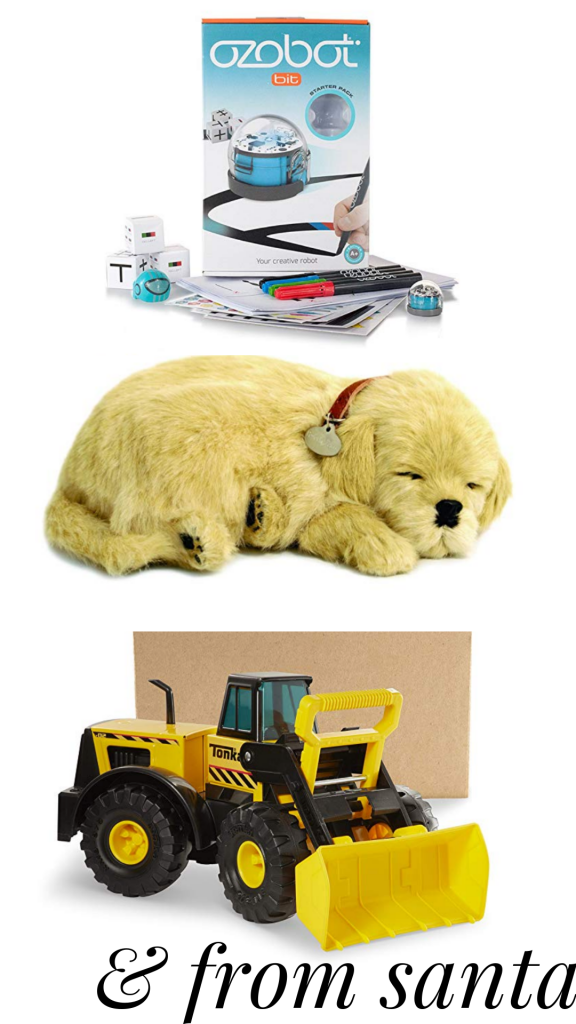 11-year-old girl gift: Ozobot Bit Coding Robot Kit
8-year-old girl gift: Perfect Petzzz Golden Retriever
4-year-old boy gift: Tonka Classic Steel Front-end Loader
I want to add that I do not think there's any one right way to do Christmas. You do you!! Do what makes sense and what works for you. This is simply something that I needed. I needed to know when to say "I'm done!" and this system makes it so easy for me to make sure I've covered my bases without going overboard. I needed to cut down on the clutter coming into my home. This system keeps me in check and makes sure that the kids are getting a variety of things, without receiving just a bunch of toys. Lastly, I needed to keep the budget in check – this system has helped so much because I know the exact number of items I'm purchasing, making it easier to ball-park the amount I can spend on each individual item. Plus, the kids are happy. Win, win, win!! What do you think?! I'd love to hear what works for YOUR family, and if you've tried this system or something similar, share your experiences in the comments!!
*This post contains affiliate links*